fáilte!
(WELCOME!)
43 Mandurah Terrace, Mandurah Western Australia 6210
Phone: 08 9535 2666
Open 7 days a week 11am 'til late
Lunch served 11:30am – 3pm
Dinner served 6pm – 9pm
All Day dining on Friday, Saturday + Sunday
Late Night menu 9pm-closing
Please note due to the WA COVID Roadmap Phase 4, Murphy's Irish Pub is required to follow strict guidelines for the safety of all staff and patrons.
We are also implementing dining 'waves' during Friday and Saturday night due to reduced capacity seating.
Lunch open everyday 11:30am – 3:00pm
Dinner open everyday from 5:30m – 9:00pm
Dinner Reservations Friday and Saturday nights 5:30pm or 7pm only
Dinner Restrictions of 8 guests. For reservations larger than 8, please contact the venue on 08 9535 2666.
Please note that guidelines of the WA State Government and rules administered at Murphy's Irish Pub to improve your dining experience may change without notice. Thanks for your ongoing support while we navigate towards 'normal!'
**MELBOURNE CUP 2020**
Tuesday, 3rd November 2020
Murphys Irish Pub, Mandurah
* 3 COURSE LUNCHEON
1 x GLASS OF WOLFBLASS BRUT ON ARRIVAL
1 x MYSTERY BET*
Cocktail Specials and Bubbly flowing all day
Only $59 per person
Doors open 10:30am
LIVE Entertainment from 1:30pm and after-party featuring 'Licensed to Thrill'
Best-dressed prizes
Ticket Prizes
Table Hampers to be won
Horse-shoe tossing game
***REFUNDS NOT POSSIBLE WITHIN 48HOURS OF EVENT***
"The 'Team America Comedy Tour – F#!K YEAH!' is a special opportunity to see one of the best up and coming natural story telling comedian in Australia before he explodes."
Jimmy 'Seppo' Kuratz  ain't your typical American "Redneck" comedian; … but he did grow up in the rural state of Iowa, and yes he has used a lawnmower as a transportation 've-hhhicle'.
If you want to know the opinions of a true redneck trailer park American, who grew up with a pet rock as a pet, may not truly understand "P.C" culture, and seriously hates Canadians … then this edgy, introspective, thoughtful, and sometimes rudely over the top comedy show is for you. As offensive as it is inoffensive 'Seppo' Kuratz shares stories form his life, his Iowa upbringing and now his new home in Australia.
Having also previously performed in Adelaide, Brisbane and Tasmania, this is Seppo's first REGIONAL West Australian tour, and promises to be one of the best raw comedy experiences of your life.
Why did he move here? Why is he called 'Seppo'. What does he think of America's influence on the rest of the world? Well you will have to just join him and the local comedy talent he brings along on The Team America Comedy Tour at town near you July through November.
We pride ourselves on our hearty meals at great prices & the best Guinness in town, all served with OUR AWARD WINNING  Irish hospitality.
Located in the heart of Mandurah Foreshore overlooking Mandjar Bay, we provide great entertainment every night of the week free for all patrons including free trivia on Monday's, live soloists on Tuesday's, Karaoke fun on Wednesdays & Thursdays & live bands from Friday to Sunday.
We have a large selection of beer & cider on tap and also serve a great selection of wines, spirits, cocktails & coffees. Our delicious menu is far from the norm "pub grub". Our food is a favourite for locals and tourists for our consistent quality, big serves & delicious selection.
If it's live sport you're after, then come and watch all the coverage on one of our 6 plasma screens or two cinema screens. We show a great variety of local & international sports on HD Foxtel, beIN Sports, Optus Sports & digital TV – so you'll be sure to find the local or European sporting match you're after at Murphy's. But if there's something you want to watch that isn't showing, simply ask our staff. You determine what we watch!
>Australian Hotels Association National Awards for Excellence Finalist September 2017 >Winner for Community Service 2016 Australian Hotels Association Awards for Excellence Winner for Community Service 2016 > WA's Beast Steak Sandwich regional - Runner Up, 2015. AHA >National Hospitality Awards for Excellence– Community Service Award 2014 >Irish Pubs Global Awards 2013 (Dublin, Ireland) Venue Manager Award - Edward Janiec. > AHA-Aon Hospitality Awards for Excellence– Community Service Award 2013 > Head Chef Nadine McAllister – Highly Commended 2013 > Safe Cellar Award 2012 > Venue Manager Award 2012 - Edward Janiec.
Murphy's Irish Pub
Mar 3, 2020 @ 8:13am
Twitter

Oct 19, 2020 @ 6:35am
Comedy Show tomorrow night!
Last chance to purchase your tickets online for a FREE $10 drink of choice on arrival 🍺 https://t.co/LrVUDYCZLI
Pre-show open mic comedy at 7pm! Send us a DM to register, $200 Murphy's giftcard up for grabs if you can get the most laughs is 5 mins! https://t.co/k7K1VYRPQI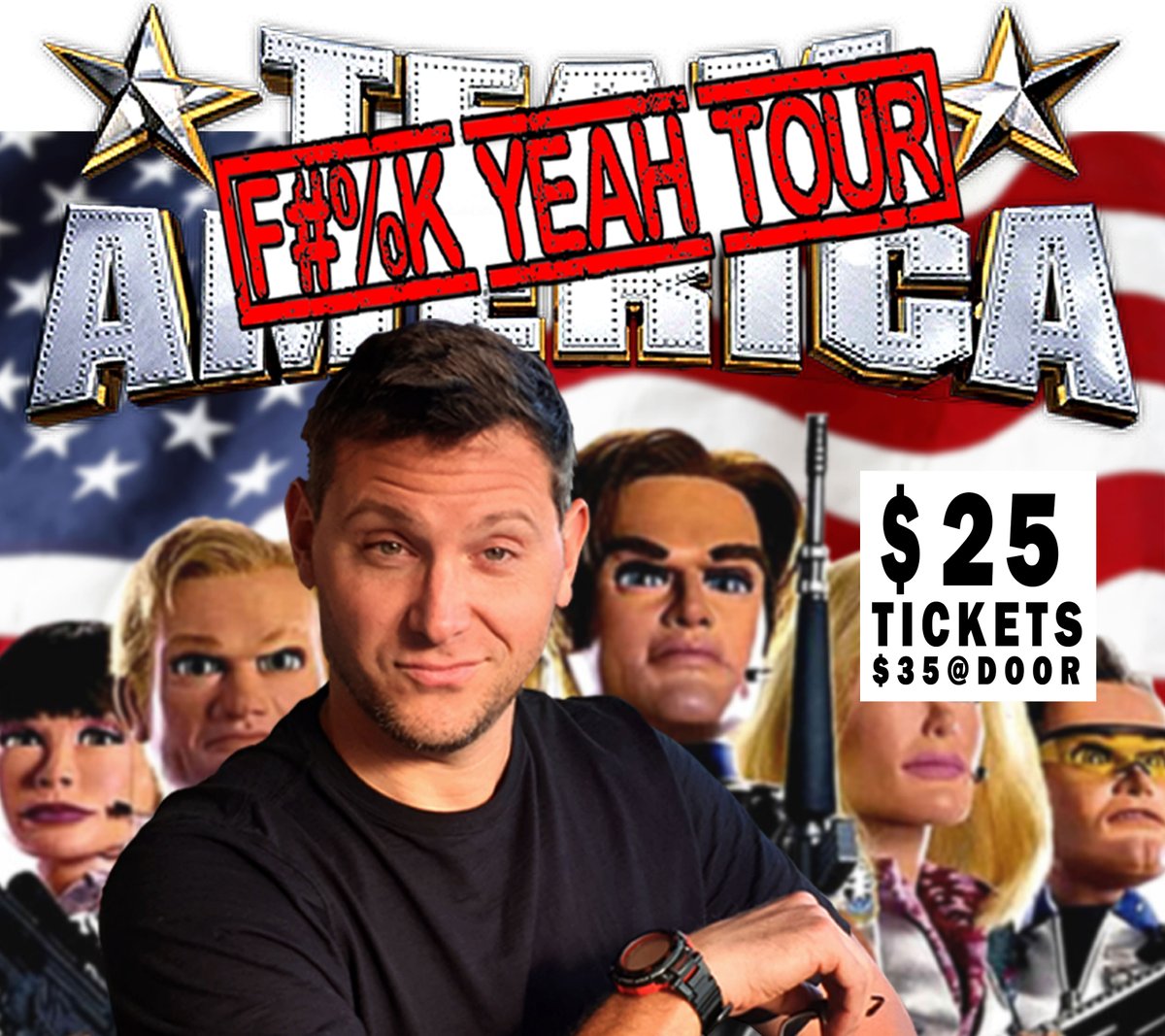 Oct 16, 2020 @ 12:48am
Are you a natural jokester? Always making your friends laugh?
Next Tues 20th Oct we're holding an Open Mic Comedy session at 7pm prior to the COMEDY SHOW at 8pm.
If you get the most laughs in 5 mins you win a $200 Murphy's BarCard (Pity laughs included!)
Ph 9535 2666 to register https://t.co/sozwCNwjeN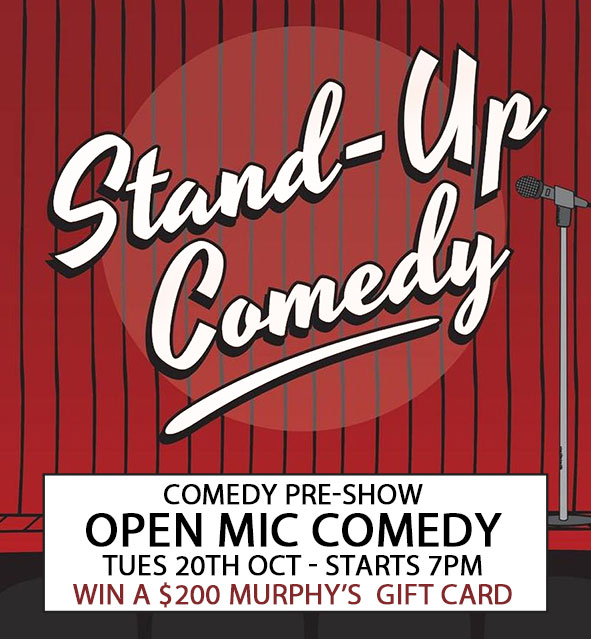 Phone
08 9535 2666
FAX
08 9534 9592
EMail
Address
43 Mandurah Terrace, Mandurah, WA
open 7 days a week
11AM TIL LATE
MONDAY – THURSDAY 
LUNCH 11.30AM – 3PM
DINNER 6PM-9PM
FRIDAY & SATURDAY 
LUNCH 11.30AM – 3PM
SNACK MENU 3PM-5PM
DINNER 5PM-9PM
SUNDAY 
ALL DAY MENU 11.30AM – 9PM
AFTER HOURS menu
DAILY 9PM-CLOSING
Copyright 2020 Murphys Irish Pub. All Rights Reserved – WARNING: Under the Liquor Control Act 1988, it is an offence to sell or supply liquor to a person under the age of 18 years on licensed or regulated premises; or for a person under the age of 18 years to purchase, or attempt to purchase, liquor on licensed or regulated premises. License Number: 6020120270 License Class: Tavern License Licensee: Seaview Imports Pty Ltd